22.2.2018: Discussion "On Translating and Publishing Modern Chinese Literature"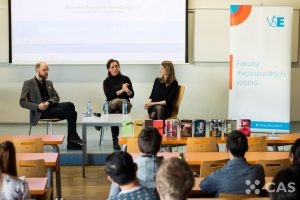 Center for Asian Studies and Chinese Studies at FIR held a discussion with Mrs. Zuzana Li, a well-known Czech sinologist, translator and interpreter from China, and Mrs. Veronika Benesova Hudeckova, Director and Owner of the Verzone Publishing House.
Mrs. Zuzana Li studied modern Chinese literature at Beijing University. The Fourth Book novel was nominated for the Magnesia Litera 2014 Award in the translation category. In 2016, the CLR prize was awarded for its contribution to the translation and publishing of Chinese books in the category of young translators.
The profile of Mrs. Veronika Benesova Hudeckova can be found, for example, on the FB website Biblio.
Verzone publishes Chinese books primarily in the award-winning Xin edition.
The discussion took place on Thursday, February 22, 2018, from 2:30 pm, at RB 212 (Paradise Building RB, VSE Zizkov).
Moderator: Mgr. Jakub Otcenasek