23.3.2018: Discussion "Czech Media and China"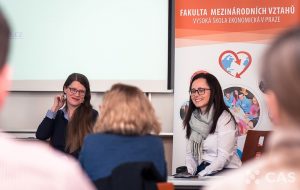 Chinese Studies and the Center for Asian Studies at the Faculty of International Relations with Ms. Ivana Karaskova, Analyst of the Association for International Affairs (AMO) and ChinfluenCE Chief Project Coordinator and Mr. Jan Stuchlik, Editor of the Journal E15, organized a lecture and discussion on the Czech media's access to China (PRC). The discussion was moderated by Zuzana Stuchlikova, CAS director and supervisor of Chinese Studies.
Among others, the ChinfluenCE project was introduced, which aims to map the Chinese political and economic influence in the Czech Republic, Slovakia and Hungary.
The lecture took place on Friday, March 23, 2018, at 11:00, at SB 112 (VSE, Zizkov), within the course 2SE533: Chinese Economy.