13.12.2017: Workshop "Selected Aspects of the Fourth Industrial Revolution in Asia"
On December 13, 2017, an expert workshop "Selected Aspects of the Fourth Industrial Revolution in Asia" was organized by the Department of World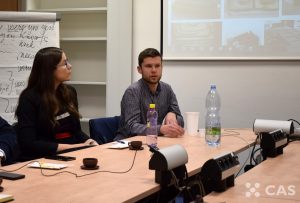 Economy at the Faculty of International Relations (FIR), in collaboration with the Center of Asian studies (CAS).
The workshop was part of the two-year internal project IGA No. F2 / 26/2017 "The Fourth Industrial Revolution in Selected Asian Countries", led by doc. Stuchlikova (CAS director). The project involves students of doctoral and master's studies at FIR, who devote themselves to Asian countries as well as European economy during their studies.
At the seminar, members of the project were presented, based on their previous research aimed at defining the term "Industry 4.0" "Fourth Industrial Revolution" and possible manifestations of this process in China:
Jan Krejci (KSE, CAS): Industry 4.0: Definitions, examples, expected changes
Ivona Marsikova: Made in China 2025: concept, goals, schedule
Jakub Jedlinsky (KSE): Current trends in the development of Bitcoin and the possibilities of its use in China.
Members of the team have already published several articles on the topics listed above. They also presented at both domestic and foreign conferences.