Byung Suk Lee's Research Stay at the University of Economics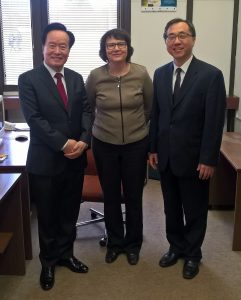 In March 2019, Mr. Lee Byung Suk from the Republic of Korea started his research stay at the University of Economics in Prague. On this occasion, the ambassador of the Republic of Korea in the Czech Republic, Mr. Moon Seoung-hyun, visited the University and its rector – prof. Ing. Hana Machková, CSc.
Mr. Lee works as a researcher for the Korean company REALMETER specializing in politics, economy and society research. Mr. Lee's previous work experience includes high political functions especially within the National Assembly (that is to say Korean parliament) and he is also a member of the Czech-Korean Forum for the Future, whose last session took place in December 2018 in the Czech Republic.
University of Economics and Faculty of International Relations in particular cooperates with the Embassy of the Republic of Korea in the Czech Republic on a long-term basis. A number of joint conferences were held on University premises in the past, as for example the Conference of Current and Future Challenges on the Korean Peninsula which was co-organized by the Centre for Asian Studies. Faculty of International Relations and the Chamber of Commerce of the Czech-Korean Society also signed the Memorandum of cooperation in October 2016 with the main aim to develop mutual collaboration between the two institutions and to contribute to the support of the cultural and educational cooperation between the Czech Republic and the Republic of Korea.