Second China and Czech Economic Forum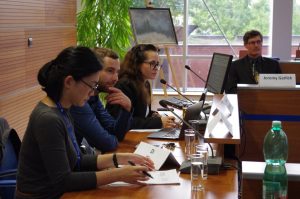 On the 30th September 2016, the second joint conference of representatives of FIR and Shandong University of Finance and Economics ("China and Czech Economic Forum") took place at the Faculty of International Relations. The conference was based on the Agreement on Cooperation in Research signed in 2014.
The conference with Chinese participation took place within the framework of the international 3rd AIB-CEE Chapter Conference (with the underlining topic of "Boosting the competitiveness of Central and Eastern Europe: towards digitalization and knowledge-based economy"). The conference was hosted by FIR within 29.9. – 1.10.2016.
The 8 membered delegation of representatives of the  Chinese University SDUFE have jointly with the colleagues from the Center for Asian Studies (CAS) discussed selected issues of trade and investment relationships between China and V4 countries, as well as possible consequences of the new Chinese incentive known as "One Belt and One Road Initiative" or "The Silk Road". The contributors of the conference, Jeremy Garlick M.A., Ph.D (SMS JM) and Ing. Jan Bejkovsky (KSE) represented here the Center for Asian Studies. That interesting Czech-chinese panel was moderated by the director of the CAS doc. Ing. Zuzana Stuchlikova, Ph.D.
The cooperation between FIR and SDUFE is being developed ever since 2009. It comprises of regular student exchanges and mobility of professors. It was further reinforced in 2015. Each semester have 2 professors of FIR taught intensive courses at SDUFE and vice-versa do also professors of SDUFE teach at FIR. In the Winter semester 2016/2017 it was for example prof. Bi Hongyi who taught the course "Chinese international trade and investment" at FIR. These courses are a part of a widening offer of intensive courses in foreign languages. In an appropriate manner they complement bachelor and master degree studies at the FIR and are also relevant for the minor specialization The Chinese Studies of the FIR.
The next joint conference will take place in September 2017 in Jinan, the capital city of Shandong which is one of the largest and most advanced of Eastern Chinese provinces. The population of Shandong exceeds 98 mil. inhabitants. On its territory is located an important maritime port Quingdao as well as Qufu – Confucius´ birthplace.
The first China and Czech Economic Forum has taken place in Jinan on May 23rd 2015.
Authors of photographs: Matyáš Havel (CAS) and Eliška Vavrouchová (FIR)