Students of Chinese Studies doing Internships at Czech and Slovak Republic Embassies in Peking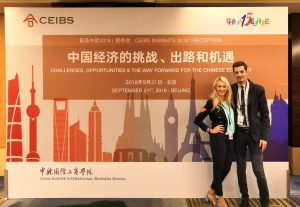 Students of the minor specialisation Chinese Studies and other majors at the Faculty of International Relations (FIR) more and more often pursue professional experience abroad, including in China. They also engage in activities of the Embassy of the Czech Republic or the Embassy of the Slovak Republic in Peking. As a part of the minor specialisation Chinese Studies, students can choose 6 ECTS credits from a list of courses, where internships abroad are covered as well.
FIR considers students´ practical experience from international environment being a fundamental part of education and a great competitive advantage of its graduates. Therefore, professional experience is included in study plans of both bachelor´s and master´s degree courses at FIR. More information about internships abroad can be found HERE.